In a single day, Skip to the Details:
How To Orderyou can witness the final hours of a brand that took ten years to build. Or you can see it re-emerge stronger than ever. From Tylenol to JetBlue — no brand is exempt. And the outcome depends not only on what you say to the public, but on how well you communicate internally — with each other.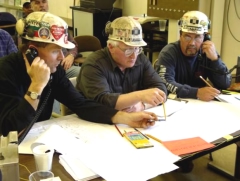 Surviving the enterprise emergency requires teamwork at a level well beyond high performance. People who have never even met must form a group that functions and thinks as one. When they succeed, they do so because of their ability to build relationships with each other that transcend workplace politics and personal agendas. The bonds they form are often so strong that they last lifetimes.
Foremost among the risks these teams face, perhaps, is the question of how well the Emergency Management Teams will work together. After all:
They're working on something that they don't know much about (yet)
They've trained for this, but not as much as they would have liked
They're under extreme pressure
After the first day, they're very tired or close to burnout
Some have concerns about loved ones
Some might be missing or injured
Some are worried about the future prospects of the company or their communities
Some have rarely worked with each other before
… and on and on and on
How do you train people to know how to do this? How do you create leaders who can make this happen? It seems an impossible task, and it is. But fortunately, you already have them — they already work in your organization. What keeps most organizations from succeeding in the enterprise emergency isn't a lack of training or a lack of leadership — it's that they're stuck in a business-as-usual frame of mind. To succeed in the enterprise emergency, all we have to do is stop pretending that the usual approaches can be bent just a little bit.
For example, when we do train our people in communication — and few organizations do that very well — we train for the routine environment. But the emergency environment is like no other. People of all professions must collaborate effectively — under extreme pressure — if they're going to find a path through the emergency. Yet, we do very little to prepare people to communicate in that environment.
101 Tips for Communication in Emergencies — effectively — shows teams how to talk to each other in the emergency environment. And an important factor in internal emergency communication involves learning to communicate across the technology divide. Techies must learn how to talk to and listen to non-techies, and vice versa.
In the modern organization, enterprise emergencies almost always entail complex technological issues. Some of us understand these issues, but most of us don't. And that creates a technology divide, which further complicates the already-complicated communication problem. This ebook discusses in depth the issues of internal communication across the technology divide:
How to successfully communicate within the emergency management team
What non-technical leaders need
How to ask for what you need from technical leaders
How to prepare teams for the emergency environment
How to deal with teams that run off the rails
How to listen and how to manage your own responses
How to manage and accept uncertainty in others
How to manage the risks of metaphors
101 Tips for Communication in Emergencies is filled with tips for sponsors, leaders and participants in emergency management teams. It helps readers create an environment in which teams can work together, under pressure from outside stakeholders, in severely challenging circumstances, while still maintaining healthy relationships with each other. That's the key to effective communication in emergencies.
It's an ebook that's 1.3 times the size of Who Moved My Cheese?.
Quick links:
Some sample tips
Here are some sample tips:
Connecting the dots conflicts with listening

In the emergency environment, we are under extreme pressure to "connect the dots." That is, we respond to the expectations of others by pushing for a clear statement of the pattern of the event as soon as possible. The result, often, is that we decide on a pattern — a framework for understanding the situation — prematurely. In effect, our need to connect the dots causes us to halt data collection too soon. It creates a tendency to slant our interpretation of what we're being told. It interferes with the ability to listen.
This tendency affects everyone differently. Those who have a preference for making models and discerning patterns are more vulnerable to this error than are those who typically prefer to see and process more data. Usually, the technologists are more vulnerable than are senior managers.
On the other hand, those who prefer gathering more data are vulnerable to a different (but complementary) error. They tend to postpone acceptance of working hypotheses until long after there is enough data to justify them.
Both error modes are manifestations of the inherent conflict between "connecting the dots" and gathering data.

Establish and enforce interface requirements

In the routine environment, we permit team members to speak freely with those outside the team. Occasionally, this "out of band" communication causes problems, but it also facilitates agility, and we tolerate it. In the emergency environment, out of band communication is almost always a threat to orderly management of the emergency. In the emergency environment, communication between a team and others outside the team must follow interface requirements.
This is particularly so in the case of a technical emergency team, because the spokesperson for the team might at times need to withhold information that isn't yet ready to be released. Others outside the team then sometimes attempt "end-arounds," in which they privately interrogate team members outside the awareness of the team lead or team spokesperson. Team members and all internal staff must be made aware, in advance, that interface protocols are to be followed at all times.

Appreciate the consequences of demanding definitive responses from technologists

When we demand that technologists supply scalar responses to queries that inherently require vector responses, we're requiring that they suppress information. That suppression, in itself, presents no difficulties to the emergency response team. But when the suppression of that information prevents the emergency response team from considering alternatives and issues that are its responsibility to consider, suppression of information by technologists does become a problem for the emergency response team. Indeed, it can become a problem also for the viability of the enterprise.
It is the role of the technologist in a technology-driven emergency to maintain a clear grasp of the full dimensionality of the emergency. It is the role of the emergency management team to decide what to do. Neither can fulfill its role when the technologists suppress information, either voluntarily or involuntarily.

In emergencies, leave no voids

When people worry, they make up what they don't know. When we say nothing about a topic people are worrying about, we leave a void to be filled by rumors. Make an active effort to determine what your stakeholder populations are worrying about, and make special efforts to determine which of their concerns they're actually talking about. Make these efforts part of your situational awareness program.
When you learn of a concern that's propagating within a given population — internal to the team or external — and you know that the concern is false or irrelevant, fashion and deliver a message to that population designed to assuage the concern. If there's any truth to the concern, address that directly. Letting it circulate unanswered will only give it space to grow to the point of unmanageability.
Table of contents
Here's a chapter-by-chapter summary of what you'll find in this book.
Click the folder icons to reveal (or hide) individual chapter content summaries, or:
What readers say
Here's a sample of reader's comments:
You're stuff is brilliant! And -- Thank you for sharing these ideas.
You and Scott Adams both secretly work here, right?
The articles are great, I enjoy getting them, and you always have something very interesting to say, or good points to raise.
I really enjoy my weekly newsletters. I appreciate that the newsletter is a quick read and is much more intellectually stimulating than, say, reading a Dilbert cartoon.
You fill a need that went unmet -- a sort of Dr. Phil for Management!
I have found your articles extremely accurate, inspiring and applicable to day-to-day. You have a great writing style and the lessons that you have shared with us are invaluable.
Designed for busy people
Most of us have way too much to do to find much time to read. And the time we do have is broken up into small chunks. We need the knowledge, but too often, we don't have time to get it, and we can't wade through 15-page chapters that lay out lengthy discussions.
Knowledge products from Chaco Canyon Consulting are designed with busy people in mind. Here are some features that make reading our e-books fast and convenient.
They're available on line

It's fun to go to a bookstore, but you have to find the time to go to the store, find what you want, wait in line to pay for it, and get back from the store. For some of us, all that time is a challenge.
With our knowledge products, you browse for your selection on line, and pay for it quickly and easily through ClickBank. You can do it anywhere that has an Internet connection.

Instant downloads

With some on-line stores, you have to wait for an email message with download instructions. The wait can be brief, but sometimes it's a day or so.
With our knowledge products, receive download instructions instantly. After you select an item, you can have it in your possession in minutes.

Universal data formats

To use some on-line knowledge products, even those you download, you need a computer or mobile device, or worse—a computer with a specific operating system.
Our knowledge products are available in near-universal formats—either hypertext (like this document you're reading right now), or Acrobat (PDF), or MP3. You can use them with any computer or device that supports the format of that product (either hypertext, PDF or MP3).

Written for busy people

Most business books are about 200-250 pages, with about 10 chapters. I don't know about you, but I don't have time to read a 225-page book cover-to-cover. There are lots of folks like us—that's why there's such a booming market in book condensations.
Our ebooks cut out that middle step. They're designed to be read by people who don't have time for the typical business book. Our tip books consist of short paragraphs, two- to four sentences per tip. Each tip has a headline in bold. You can easily scan the book for tips that seem relevant to you and read only those. Read in any order, and read them in short sittings.

We use hyperlinks

Most books, even e-books, are meant to be read off-line. Because they stand alone, they contain material that you might not want to see.
Our ebooks assume that you have the Internet nearby. If you want background material on a point we've made, just click. And some of our hyperlinks link to other places in the e-book itself, to help you tie things together is you read.
Details and how to order
After your purchase is approved, ClickBank presents a page that contains a link to a page where you can download your item immediately. You can load it onto your computer or mobile device, or print it. Your satisfaction is guaranteed by ClickBank's return policy.
Price: USD 19.95 per copy.
Quantity packs are available at the prices shown below. Call for site license pricing at the phone number below.
Order 101 Tips for Communication in Emergencies by credit card, for USD 19.95 each, using ClickBank.com.
.
Table of contents
Here's a chapter-by-chapter summary of what you'll find in this book.
Click the folder icons to reveal (or hide) individual chapter content summaries, or: