You're preparing for a team meeting in about an hour. It's your meeting, and you expect a difficult discussion, because the team must decide a very polarizing issue by the close of business today. Some of the attendees, including the team lead from a subcontractor whose work is consistently late, will be attending by telephone. As you're puzzling through the problem of how to handle the mess, you get a phone call from your boss. The VP of Marketing called her, and he wants to "sit in on this one." He wants "to make sure things turn out right," whatever that means.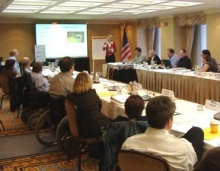 People working politically. Politics happens in almost every meeting.
Are you confident that you can lead the team through such a complex situation effectively? Do you know what your choices are, and what tools are available to you?
Leading meetings effectively, and participating in meetings effectively, requires much more than agendas, conference rooms, flip charts, markers, speakerphones, or projectors. You also have to know how to use them, and that's where politics enters. People need to feel heard, they hate to waste time, and the chair needs to know how to handle sticky situations. This insight-filled program deals with issues such as:
What to do when powerful people "sit in"
Where to sit in the room
How to craft an agenda that drives the meeting
How to prevent duels and how to intervene when necessary
How to prepare and run telemeetings
How to handle handouts
How to plan and run an "issues-only" meeting
How to avoid playing "Serial Status Report"
How to get the right volunteers
Most of us begin our careers not leading meetings, but participating in them. As we advance in our organizations, we tend to carry this participation-oriented stance with us, and that causes problems. As leaders, we focus too often on participating in meetings, rather than leading them.
Managing a meeting begins with managing yourself. To keep your head clear, and to be ready to handle the sticky issues that sometimes arise, you must limit your load. In this program we provide a general framework that helps meeting leaders focus on leading the meeting rather than participating in its content.
Comments from attendees
Shannon Sauro, Director of Telecommunications & Business Processes, The College at Brockport, State University of New York

This was by far, the most energizing and informational presentation I have ever attended. I actually left this presentation wanting more! It focussed on my weakness (politics). It was based on reality and was easily understood. All the information provided was applicable to my current position. Two ideas I used immediately: where to sit in a meeting, and how to generate brilliant questions.

Cheri Evans, COCC, Project Manager, Customer Conversions

Rick provided great real-world examples that I can take back to the office — and my personal life — and use.

And some anonymous comments:

This was an excellent session and should be a must for project managers or anyone who runs a meeting!
Educational, interactive, and funny — no coffee needed for this session!
Wildly informative!
Program structure and content
This program is available as a keynote, workshop, seminar, breakout, or clinic. We learn through exercises, simulations, and post-program activities. We explore these aspects of politics, and apply models of group behavior to help participants learn:
The importance of asking for (and receiving) the right kind of help from the meeting attendees
How to establish a sound political foundation for the meeting before it even starts
How room geometry and seating position affect human behavior
How and when to intervene in toxic conflict
The seven most deadly logical fallacies and how to prevent their use
The art of crafting agendas
The effects of hardware: projectors, laptops, blackberries, etc.
The most effective protocols for the "parking lot"
Program outline
Introduction

What is a meeting?
What is politics?
Establishing the learning environment
Defining the goal

Managing the environment

What to look for in a room: size, ventilation, lighting, acoustics
All about equipment: seating, tables, projectors, laptops, etc.
Choosing where to sit (and seat others)
Dealing with environmental troubles

Managing the agenda

Gathering agenda items is a political act
Construct the agenda with politics in mind
Agenda writing skills
Keeping time with timekeepers
Parking lots and their attendants

Leading the attendees

The benefits of asking for help
How to arrange seating
The elements of fair debate
Three discussion frameworks and their uses

Dealing with toxic conflict

Detecting toxicity early
Dealing with duels and explosions
Toxic alliances
What to do when you're involved yourself

Dispersed meetings and their politics

Symmetric and asymmetric meetings
The costs of asymmetry
Dealing with organizational alignments
The effects of dispersion: time zones, language, etc.

The politics of chairing

Inherent conflicts of interest
Perceived (as opposed to real) conflicts of interest
How to choose a facilitator
When Power attends the meeting

Summary and wrap-up

What to do tomorrow
Monitoring your own learning
Resources for the future
Learning model
The one-day and two-day formats of this program include copies of my ebook 303 Secrets of Workplace Politics for all participants and their supervisors (a value). Ideal for those who like to supplement their learning by reading, or as a reference for later study. MoreWe usually think of workplace skills as if they were free of emotional content. We hold this belief even though we know that our most difficult situations can be highly charged. Despite these sincere beliefs, taking personal or organizational performance to the next level does require learning how to apply what we know even in situations of high emotional content. That's why this program uses a learning model that differs from the one often used for technical content.
Our learning model is partly experiential, which makes the material accessible even during moments of stress. Using a mix of presentation, simulation, group discussion, and metaphorical team problems, we make available to participants the resources they need to make new, more constructive choices even in tense situations.
Target audience
Executives, leaders, managers, and project team members. We work either with individuals, or with an entire team or with a group drawn from many teams.
Program duration
Available formats range from 50 minutes to two full days. The longer formats allow for more coverage or more material, more experiential content and deeper understanding of issues specific to audience experience.
Related articles
We often think about "playing the game" — either with relish or repugnance. Whatever your level of skill or interest, you'll do better if you see workplace politics as it is. It is not a game.

The foundation of any team meeting is its agenda. A crisply focused agenda can make the difference between a long, painful affair and finishing early. If you're the meeting organizer, develop and manage the agenda for maximum effectiveness.

At any time, without warning, you can find yourself in a meeting that boils over. Sometimes tempers rise, then voices rise, and then people yell and scream. What can a team do when meetings threaten to boil over — and when they do?

We use meetings to exchange information and to explore complex issues. In open discussion, we tend to interrupt each other. Interruptions can be disruptive, distracting, funny, essential, and frustratingly common. What can we do to limit interruptions without depriving ourselves of their benefits?

You're chairing a meeting, and to your dismay, things get out of hand. People interrupt each other so often that nobody can complete a thought, and some people dominate the meeting. What can you do?

We spend a lot of time and emotional energy in meetings, much of it engaged in any of dozens of ritualized games. Here's Part I of a little catalog of some of our favorites, and what we can do about them.

We spend a lot of time and emotional energy in meetings, much of it engaged in any of dozens of ritualized games. Here's Part II of a little catalog of some of our favorites, and what we could do about them.

When we offer a contribution to a discussion, and everyone ignores it and moves on, we sometimes feel that our contribution has "plopped." We feel devalued. Rarely is this interpretation correct. What is going on?

When the boss or supervisor of the chair of a regular meeting "sits in," disruption almost inevitably results, and it's usually invisible to the visitor. Here are some of the risks of sitting in on the meetings of your subordinates.

When you attend a meeting, how do you choose your seat? Whether you chair or not, where you sit helps to determine your effectiveness and your stature during the meeting. Here are some tips for choosing your seat strategically.

Whether you're a CEO appealing to your Board of Directors, your stockholders or regulators, or a project champion appealing to a senior manager, you have to "sell uphill" from time to time. Persuading decision makers who have some kind of power over us is a challenging task. How can we prepare the way for success now and in the future?

Whether you're a CEO or a project champion, you occasionally have to persuade decision makers who have some kind of power over you. What do they look for? What are the key elements of an effective pitch? What does it take to Persuade Power?

To save time, or to find a time everyone has free, we sometimes meet during lunch. It seems like a good idea, but there are some hidden costs.

Most of us believe that the foundation of a well-run meeting is a well-formed agenda. What makes a "well-formed" agenda? How can we write and manage agendas to make meetings successful?

The question-and-answer exchanges that occur during or after presentations rarely add much to the overall effort. But how you deal with questions can be a decisive factor in how your audience evaluates you and your message.

I have good news and bad news. The bad news is that if you wait long enough, there will be some bad news. The good news is that the good news helps us deal with the bad news. And it helps a lot more if we get the bad news first.

When we deliver news at work — status, events, personnel changes, whatever — we sometimes frame it in a story line format. We start at the beginning and we gradually work up to the point. That might be the right way to deliver good news, but for everything else, especially bad news, deliver the headline first, and then offer the details.

We waste a lot of time finding solutions before we understand the problem. And sometimes, we start solving before everyone is even aware of the problem. Here's how to prevent premature solution.

Your team is fortunate if you have even one teammate who regularly asks the questions that immediately halt discussions and save months of wasted effort. But even if you don't have someone like that, everyone can learn how to generate brilliant questions more often. Here's how.

In meetings, keeping a list we call the "parking lot" is a fairly standard practice. As the discussion unfolds, we "park" there any items that arise that aren't on the agenda, but which we believe could be important someday soon. Here are some tips for making your parking lot process more effective.

You can find lots of tips for making meetings more effective — many at my own Web site. Most are directed toward the chair, or the facilitator if you have one. Here are some suggestions for everybody.

When a team relies on group discussion alone to evaluate proposals for the latest show-stopping near-disaster, it exposes itself to the risk that perfectly sound proposals might be inappropriately rejected. The source of some of this risk is the nature of group discussion.

Most of us interpret a confident manner as evidence of competence, and a hesitant manner as evidence of lesser ability. Recent research suggests that confidence and competence are inversely correlated. If so, our assessments of credibility and competence are thrown into question.

Toxic conflict in virtual teams is especially difficult to address, because we bring to it assumptions about causes and remedies that we've acquired in our experience in co-located teams. In this Part II of our exploration we examine how minimizing authority tends to convert ordinary creative conflict into a toxic form.

Ego depletion is a recently discovered phenomenon that limits our ability to regulate our own behavior. It explains such seemingly unrelated phenomena as marketing campaign effectiveness, toxic conflict contagion, and difficulty losing weight.

Design errors can cause unwanted outcomes, but they can also lead to welcome surprises. The causes of many design errors are fundamental attributes of the way groups function. Here is Part II of our exploration.

The term groupthink is tossed around fairly liberally in conversation and on the Web. But it's astonishing how often it's misused and misunderstood. Here are some examples.

Much of the work of modern organizations requires creative thinking. But financial and schedule pressures can cause us to adopt processes that unexpectedly and paradoxically suppress creativity, thereby increasing costs and stretching schedules. What are the properties of effective approaches?

Creative thinking at work can be nurtured or encouraged, but not forced or compelled. Leaders who try to compel creativity because of very real financial and schedule pressures rarely get the results they seek. Here are examples of tactics people use in mostly-futile attempts to compel creativity.

Most of us have to talk to other people at work. Whether to peers, subordinates, or superiors, sometimes we must convey information that can be complicated when delivered in full detail. To convey complicated ideas effectively, avoid suspense.

Follow Rick





The
message of Point Lookout is unique. Help get the message out.
Please donate
to help keep Point Lookout available for free to everyone.

My blog,
Technical Debt for Policymakers
, offers resources, insights, and conversations of interest to policymakers who are concerned with managing technical debt within their organizations. Get the millstone of technical debt off the neck of your organization!
What People Say About Rick's Programs
"Rick is a dynamic presenter who thinks on his feet to keep the material relevant to the group."
— Tina L. Lawson, Technical Project Manager, BankOne (now J.P. Morgan Chase)
"Rick truly has his finger on the pulse of teams and their communication."
— Mark Middleton, Team Lead, SERS
Ebooks, booklets and tip books on project management, conflict, writing email, effective meetings and more.

Save a bundle and even more important save time! Order the Combo Package and download all ebooks and tips books at once.
If your teams don't yet consistently achieve state-of-the-art teamwork, check out this catalog. Help is just a few clicks/taps away!